A few weeks ago I decided to finally set the step and order myself a replacement focusing screen. I saw a KatzEye with a split prism on the *istD of a mate and liked it very much. After some mailing to and fro with respected users of various forums, I decided not to get the split prism, but to order a KatzEye screen with just some custom grid lines and the Optibrite treatment. The latter should help in low light and with "darker" lenses.
Communication with the KatzEye people went beautifully. They are so helpful!! We settled on the following design: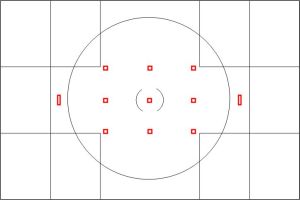 It's a combination of the "Rule of Thirds" Grid, the Square Format Crop Lines, and an approximation of the spot metering arcs as on the original Pentax screen. The large circle is not an option as it's part of KatzEye's base material. The spot metering arcs were a first for KatzEye, but they turned out great!
I received it last week in large UPS envelope containing a small box with foam holding a smaller sealed plastic bag with the even smaller focusing screen inside. Installation instructions were not included, but a download link to a PDF had been mailed to me after my order and I had printed this out. I printed it in colour which made the pictures in the document much clearer. An installation tool was included as well.
I only got round to installing it yesterday. I waited for a moment that I could do this in a controlled and relaxed way without anyone around to distract me, as I had read that it was a delicate operation.
I took all possible precautions in cleaning the work area and making sure there was as little dust as possible floating in the air. I also made sure the mirror chamber of my K20D was as dust free as possible by carefully blowing it out.
The tool provided in the package by KatzEye was very helpful. It's plastic tweezers that open when squeezed and as such hold the screen by its tab without any effort required to keep it there. I was surprised how easy I could free the installed focussing screen and how small they are. No force was required at all. The holder fell open but not quite onto the mirror as some installation reports mention. It stopped a few mm above the mirror. I feared for a moment the Pentax screen would fall out, but it didn't and I could remove it easily with some care. I didn't think of preparing a dust free spot to put it temporarily so I'll probably have to clean it should I want to put it back... The KatzEye box doesn't have the temporary space for a second screen that I have seen in the box Pentax provides with their replacement screens.
Placing the KatzEye into the camera was straightforward, though getting it properly out of the plastic bag wasn't, esp since I only managed to open it at the wrong side (I had to turn the screen around in the bag to get to the holding tab to grab onto it). When I move up the holder it fixed into place neatly, though I didn't hear the click the instructions told me I was supposed to hear. The screen seems fixed properly, and has stayed in place since, so I guess it's OK.
I managed the entire procedure almost dust free, only getting one dust spot on the upper edge of the frame, but I'll leave it there for now as I don't want to risk getting more dust onto the screen by trying to remove this one spot.
Tests showed that the grid lines (3x3 and square combination) are aligned correctly (no water running out of the sea ;-) ), and the 3x3 lines are placed spot on. I tested this on a few test shots I imported into Lightroom which has the same grid lines in its cropping mode.
The Optibrite treatment seems to enhance the view in low light indeed as well as with darker lenses, although the fading light while I was doing the installation made a decent comparison less obvious. Metering doesn't seem to be affected noticeably, but of course I got a version without the split prism.
I have the impression that MF will be easier too as I seemed to see test subjects snap into focus easier than with the Pentax screen, but again that could be just a thought. The shots that I took using MF were spot on.
I'm a happy customer indeed. OK, the screen wasn't exactly cheap and I did have to add the usual 30% of import taxes (importing US goods into Belgium), but I feel it will be worth it!
Wim